Proximity Engagement Isn't a 'Nice to Have' Anymore
"Location. Location. Location." Once thought of as a truism only in the real estate market, the phrase has since become an essential mantra in creating impactful customer experiences. 
In fact, location intelligence is now one of the top tools for businesses to not only differentiate themselves, but also build deeper relationships and loyalty with their customers. This becomes even more effective when paired with customer behavior data.  Leveraging that combination to deliver truly personalized consumer experiences is what we call 'Proximity Engagement.'
And nine in 10 companies anticipate location data will become even more important over the next several years. Additionally, several reports reveal tremendous market growth for both location analytics and proximity marketing. 
One report released in 2021 predicted the location analytics industry to realize 3x growth by 2027, climbing from $10.29 billion in 2019 to $31.13 billion in 2027. Another predicts the global proximity marketing industry to grow at a 29% CAGR, reaching $212B by 2027. 
But until more recently, leveraging location intelligence along with customer preference data to deliver true proximity engagement has been something only the huge brands with significant marketing and IT capacity could afford. That's now changed. 
Location intelligence grows more important  
A number of forces have coalesced to thrust first-party location analytics to the forefront. Most recently, it has been the proliferation of privacy-driven restrictions placed on cross-app tracking and third-party data sharing. In just the past couple of years, third-party data has become less reliable and significantly more difficult and expensive to acquire as we move deeper into the "Great Opt-Out".
According to the App Tracking Transparency Opt-In report from Flurry, more than three out of four iOS users worldwide have opted out of cross-app tracking, with the US opt-in rate plateauing at 18% as of this writing. This, along with the fact that browser-based cookies are going away, has prompted brands and marketers to learn about and engage with their customers in alternative––and more authentic––ways. 
As painful as it's been to relinquish reliance on third-party data and cookies, this shift has forced a necessary change. One, that in many regards, has urged us to return to the "old fashioned" way of marketing that required us to get to know customers one-to-one and rely on insights we collect firsthand to create genuine connections. Now, the only difference is, we have technology at our disposal to do this on a larger scale. 
Location intelligence tools become more ubiquitous
The insights obtained from these one-to-one interactions is not only in line with privacy compliance requirements, it's also a more genuine way to engage with customers and create authentic experiences.
It's an approach Amazon and Netflix have been perfecting for years now and one consumers have come to expect from all brands––authentic personalization. Personalization that serves to help––to make easier what the customer already wanted, needed or intended to do. 
Thanks to emerging platforms like Radar, location services have been moved into the mainstream, gaining significant adoption. Major brands like Burger King, Walmart, Chick-fil-A, and others across various verticals like retail, quick-service restaurants, hospitality, logistics, travel, etc. have adopted the technology, recognizing it's an effective sales and customer loyalty driver. Radar's recent funding announcement––a $55M series C round, which brings their total raised to almost $90M––signifies that the investor community sees immense value in the category as well.
Now the core functionality of those enterprise-grade tools is accessible to the rest of the market. That's what we set out to do with LighthousePE––make proximity engagement approachable to the small- and mid-sized business market. 
We see our mission very much like what Mailchimp did for email marketing. For those businesses who couldn't afford or didn't have a need for the enterprise-grade features in Marketo or Eloqua but still wanted to leverage email as a strategic marketing tool, Mailchimp provided an intuitive and easy-to-use tool that allowed SMBs to engage and compete in the same way that the big brands were. You no longer had to be an enterprise organization to deploy segmented email campaigns or even have a monthly newsletter with some degree of automated personalization.  
This has been our goal with LighthousePE from day one––to level the playing field for challenger and mid-market brands to give them a way to compete with the big brands on the customer experience front. First-party, location-based data––especially when paired with customer behavior data from other systems like CRMs and point-of-sale––is becoming a crucial component of customer engagement and creating personalized experiences.
Despite rising privacy concerns, customers are willing to share their location data if they believe there is an equal or greater value exchange. And value can be in the form of reducing friction during the ordering process, offering personalized incentives for things the customer already wanted or needed, or providing them a more tailormade experience. It's not using the data to show them ads that may or may not apply to them. 
It's about honoring and protecting the data the customer was willing to share with you and using it to build location-based experiences the right way. And that's what LighthousePE has made accessible to businesses of any size. 
You may also be interested in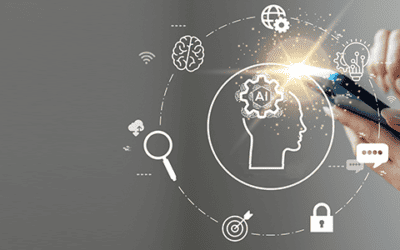 In the rapidly evolving landscape of technology, Artificial Intelligence (AI) stands as an undeniable force, revolutionizing various industries. Among these, Digital Marketing has witnessed a transformative shift as AI becomes a central player in reshaping the field...
read more