LighthousePE Appoints New CEO
Phoenix Business Journal – by Andy Blye
January 25, 2021
LighthousePE, a software company based in Phoenix, recently announced Andrew Steele as its new CEO.
LighthousePE is a platform that uses location data to serve personalized messaging to people on mobile devices. The PE stands for proximity engagement, emphasizing the company's focus on delivering close, tailored messaging.
Steele, who was privately working as the CEO since October, has a history with early stage companies. He most recently led Breezing, a company that spun out of the Biodesign Institute at Arizona State University. He previously founded or co-founded three other companies.
LighthousePE, a software company based in Phoenix, recently announced Andrew Steele as its new CEO.
"It's equal parts, optimism and masochism to keep doing startups over and over again," he said. "But I think you have to have that in your DNA to be willing to take this on."
LighthousePE made last year's list of Phoenix's largest software companies. It is also a division of Off Madison Ave, one of Phoenix's largest public relations companies.
The Covid-19 pandemic has wrecked many small businesses, especially those in the dining, travel and hospitality industries that seek in-person shoppers. Steele said the company is feeling a tailwind as these small businesses (potential Lighthouse customers) look to rebuild and bring people back into stores.
"People are starting to peek their heads out," he said. "And sort of look toward the horizon again, and figure out how they can start getting the business back on track."
Consumer behavior is expected to change as vaccines get distributed, and LighthousePE hopes to capitalize on that in the coming months. Steele said the company is looking to raise capital that will help fund growth in 2021, specifically hiring more people and expanding its customer base locally.
"We're delighted to have Andrew build on our strong momentum as we innovate our product in new and diverse ways," Roger Hurni, managing partner at Off Madison Ave, said in a statement. "Andrew is a seasoned leader who will continue to deliver value to businesses by enabling authentic and deeply personalized communication to their customers with the LighthousePE platform."
Click here to see original article…
You may also be interested in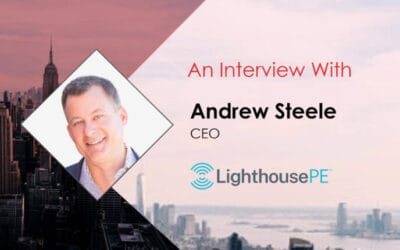 Marketing Technology Insights - MarTech Series - MarTech Interview with Andrew Steele, CEO at LighthousePE by Paroma Sen February 14, 2022 While customers demand a higher degree of personalization through every marketing campaign, marketers have to be smarter...
read more